The newest Nintendo Direct just finished up a bit ago, and Nintendo had a whole host of announcements to cover the rest of 2015, and even a bit of 2016.
Things kicked off with the highly-anticipated MewTwo Super Smash Bros. DLC for Wii U and 3DS, which will release on April 28th. Pricing will be set at $3.99 for the 3DS and Wii U, or $4.99 for both. Another surprise announcement was the addition of Lucas from Mother 3, as another Smash combatant, coming this June. Also, a new Mii Fighter costume pack was unveiled, with designs based on Majora's Mask, Xenoblade Chronicles, and Mega Man, priced at $0.75 for one version, or $1.15 for both. A new patch is also planned, which looks to focus on balancing improvements across all fighters.
Also unveiled, and of particular interest to just about every Smash Bros. fan out there, is the new Smash Bros. Fighter Ballot available via Nintendo's website. This ballot will allow players to suggest the next fighter they'd like to see included as DLC, which will hopefully lead to some interesting fan favorites making the cut.
For amiibo fans, Nintendo unveiled the release date for Wave 4 in North America, which will be May 29th. Another smaller group of 2 figures is planned for June, with what appears to be another wave in August. Retailer exclusivity is planned to continue for select figures.
A new downloadable title for Wii U was announced dubbed "amiibo Tap", which works a bit like a demo system of VC titles. Tapping an amiibo to the GamePad will unlock a title, chosen at random, which you can play for a limited amount of time. Tap the same amiibo again, and unlock a different chunk of the game to play. This can be done multiple times per amiibo, giving you a pretty large sample of stages/areas to choose from. This is planned to be available this Spring.
Another look at the upcoming Mario Maker for Wii U was unveiled, showcasing the drag and drop functionality of building stages across Super Mario Bros., Super Mario Bros. 3, Super Mario World, and New Super Mario Bros. tile sets. Also highlighted was the fact that this is the 30th Anniversary of Super Mario Bros. release on the NES, with other anniversary announcements planned in the near future. Mario Maker is scheduled to release in September.
Next up was Yoshi's Woolly World for Wii U, releasing this fall. Two difficulty modes were unveiled, dubbed Classic and Mellow. Classic gives the traditional Yoshi game experience (think Yoshi's Island), and it's meant to be more challenging, while Mellow gives Yoshi wings to fly around the stages, avoiding most obstacles and jumps. Also planned are special Yoshi Yarn amiibo, made from actual yarn, which will come in three different colors, green, blue, and pink. The game, and the amiibo, will be available this Fall.
Splatoon took the stage next, reiterating previously announced modes, showing off gameplay, and revealing two new modes. One is a standard, ranked 4 vs. 4 mode, while the other is called Battle Dojo, a local 1 vs. 1 mode meant to teach players the layout of various maps and how to be more effective in competitive modes. Splatoon amiibo were also unveiled, consisting of the Inkling Boy, Inkling Girl, and Slime, which will come in a special three pack. You'll also be able to buy the Inkling Boy and Inkling Girl separately. All of this will release on May 29th.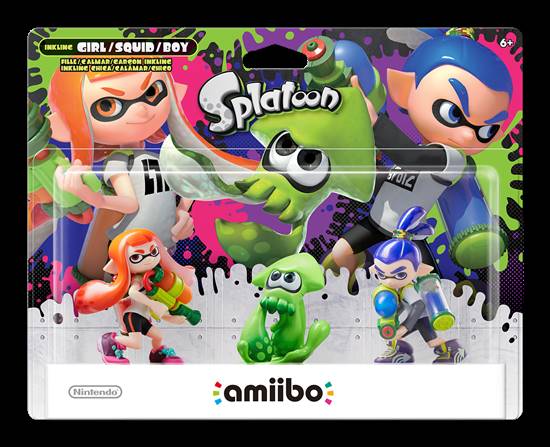 One of the bigger surprises from this stream was the announcement of Nintendo DS and Nintendo 64 games for the Wii U Virtual Console. DS games will be priced at $6.99 to $9.99, with N64 games at $9.99 to $11.99. For those that have already bought N64 titles on the Wii, buying the same game on Wii U will cost $2.00. Two titles release today, with Super Mario 64 for $9.99 and Yoshi's Island DS, also at $9.99. In the coming weeks players can expect to see Yoshi's Touch and Go, WarioWare Touched, Donkey Kong 64, Mario Kart DS, and Paper Mario.
Another big announcement was a trailer for the upcoming Atlus developed crossover title, Shin Megami Tensei X Fire Emblem. Tentatively scheduled for 2016, the trailer showed off a bit of gameplay and cutscene action, but doesn't give much away regarding story or how exactly the cross over element works. Still, it looks pretty great, and I'd say this was the highlight of the Direct for me.
We also got a lot more info on the new Fire Emblem title, which will apparently release in two separate versions that focus on the two warring factions in the game. One faction will feature a simpler storyline and easier gameplay, meant for newcomers to the Fire Emblem series. The other will be more complex, with tougher mechanics more in line with traditional Fire Emblem.
Other surprise announcements consist of a 200 CC mode for Mario Kart 8 along with more details on the 2nd planned DLC pack. Code Name S.T.E.A.M. is getting an update to implement a enemy turn fast forward feature. An NFC reader/writer accessory will be released for the 3DS/2DS. Animal Crossing: Happy Home Designer is coming for 3DS/2DS, along with amiibo cards featuring Animal Crossing characters. Along with all this, we can expect to see two new StreetPass Mii Plaza games in the near future, a re-release of the Marth amiibo in May, a new free-to-play Pokemon title on 3DS called Pokemon Rumble World, and an Atlus published Attack on Titan game coming in May to eShop only.
Whew! That's a lot of stuff for one Nintendo Direct! You can read further details on all of this stuff through the official PR below.
Nintendo Details Upcoming Wii U and Nintendo 3DS Games and a Wide Range of New amiibo

New amiibo Cards, Super Smash Bros. Characters, Mario Kart 8 Speed Class and an Animal Crossing Game Are Among the Numerous Announcements

REDMOND, Wash.–(BUSINESS WIRE)– With so much information, it would be easy to dismiss the latest Nintendo Direct presentation as an elaborate April Fool?s Day prank. But the latest Nintendo Direct is definitely no joke. The next evolution ofamiibo? It?s happening! Lucas from Mother 3 in Super Smash Bros. for Wii U and Nintendo 3DS? He?s joining the battle! The debut of a 200cc speed class in Mario Kart 8? Yup! A new line of Yoshi amiibo figures made of actual yarn? Oh yeah. A home-designing Animal Crossing game? Launching this year! Splatoon launching on May 29 and more details about Mario Maker,Yoshi?s Woolly World and the new game in the Fire Emblem series? It?s all accurate!

A totally new form of amiibo is coming this fall! The first set of amiibo cards will be based on Animal Crossing characters and will be compatible with the Animal Crossing: Happy Home Designer game. (Photo: Business Wire)

To view the Nintendo Direct video in its entirety, visithttp://www.nintendo.com/nintendo-direct.

?The world of amiibo is getting bigger, better and even more interactive,? said Scott Moffitt, Nintendo of America?s executive vice president of Sales & Marketing. ?And with existing amiibo support for games like Super Smash Bros., Mario Kart 8 and more, and upcoming support for Splatoon,Yoshi?s Woolly World and Animal Crossing: Happy Home Designer, amiibo continue to stretch the definition of the toys-to-life category.?

Highlights revealed in the video include:

amiibo

amiibo Cards: A totally new form of amiibo is coming this fall! The first set of amiibo cards will be based on Animal Crossing characters and will be compatible with the Animal Crossing: Happy Home Designer game. An NFC reader/writer peripheral for Nintendo 3DS, Nintendo 3DS XL and Nintendo 2DS ? which offers the functionality for scanning amiibo currently included in the New Nintendo 3DS XL system ? will also launch the same day as the new Animal Crossing game.
The Next Waves of Super Smash Bros. Series amiibo: On

May 29

, a new set of amiibo in the Super Smash Bros.series will launch, featuring Charizard, PAC-MAN, Wario, Jigglypuff, Greninja, Robin, Lucina and Ness. July brings Dark Pit and Palutena. And in September, Zero Suit Samus, Ganondorf, Olimar, Dr. Mario and Bowser Jr. will join the amiibo family.
Play Classic Nintendo Games Using amiibo: With amiibo tap: Nintendo?s Greatest Bits, Wii U users can download the free application from the Nintendo eShop and tap any amiibo to unlock game-play highlights from select NES and Super NES games.
Yarn Yoshi amiibo: A new set of Yoshi amiibo figures made of actual yarn will launch later this fall along with theYoshi?s Woolly World game. Tapping one of these yarn amiibo to the Wii U GamePad controller while playing Yoshi?s Woolly World will make another Yoshi appear in the game to assist the player. The Yarn Yoshi amiibo will be available in three colors: green, pink and light blue.
Splatoon amiibo: Launching simultaneously with Splatoon on

May 29

are Inkling Girl, Inkling Boy and Inkling Squid amiibo figures. By tapping one of these amiibo to the GamePad, players can receive special missions to unlock weapons and gear.
More Mii Racing Suits!: On

April 23

, a new free downloadable software update to Mario Kart 8 will add support for nine more amiibo figures, including Mega Man, Sonic and PAC-MAN. Players can tap these amiibo to outfit their Mii characters in Mii Racing Suits themed to those amiibo characters.

Wii U

Mario Maker: The Mario Maker game launches exclusively for the Wii U console in September and easily lets users create their own Mario levels and share them online with people all over the world! Various activities related to the30th anniversary of the Super Mario Bros. game are also planned throughout the year.
Splatoon: In addition to previously detailed single-player and online ?Turf War? modes, action shooter Splatoon will feature a highly competitive ?Ranked Battle? mode, which ranks and matches players based on their wins in 4-on-4 multiplayer matches. The super-fun and super-colorful game will also feature a ?Battle Dojo.? In this mode, players can enjoy local 1-on-1 battles with friends. One player plays on the GamePad controller, while the other plays on the TV using a separate controller, competing to see who can pop the most balloons. Splatoon will launch exclusively for Wii U on

May 29

.
200cc? 200cc!: Yes, that?s right: For the first time in the Mario Kart series, a 200cc racing class is coming to Mario Kart 8. Even faster than 150cc, the new high-speed class will work on all tracks in the game and makes braking an important driving skill. The new 200cc class will be offered as a free downloadable update on April 23 alongside the new paid DLC Pack 2 featuring three new characters, four new vehicles and eight new tracks.
Nintendo 64 and Nintendo DS Games Hit the Virtual Console Service: Starting today, classic Nintendo 64 and Nintendo DS games are coming to the Virtual Console on Wii U. Today brings Yoshi?s Island DS for Nintendo DS andSuper Mario 64 for Nintendo 64. While playing Nintendo DS games, the TV and GamePad combination will provide various options for dual-screen layouts, while all Nintendo 64 games that supported the Rumble Pack will continue rumbling away on Wii U controllers. Upcoming Virtual Console releases include WarioWare: Touched! for Nintendo DS on

April 9

and Donkey Kong 64 for Nintendo 64 on

April 16

.
Yoshi?s Woolly World: The lovingly crafted new Wii U game launches this fall and overflows with numerous challenges and hidden secrets. In addition to the challenging Classic Mode, Yoshi?s Woolly World adds ?Mellow Mode,? an additional mode that lets players of all skill levels play as ?Winged Yoshi.?
Shin Megami Tensei & Fire Emblem Crossover Project: The role-playing masters at ATLUS are developing a truly modern RPG, where everyday life exists alongside a secret world of fantasy that includes characters from the Fire Emblem series.
New Fatal Frame Game Coming to the U.S.: Fans that have been clamoring for a chance to play the latest game in the creepy Fatal Frame series will have their chance when it launches later this year for Wii U.

Nintendo 3DS

Animal Crossing: Happy Home Designer: This new game in the Animal Crossing series focuses on the decorating and home-designing aspects of the Animal Crossing games. Animals will ask players to design houses for them, and it?s up to designers-in-the-making to meet the animals? requests by furnishing and decorating their homes. By tapping a new Animal Crossing series amiibo card to the New Nintendo 3DS XL system or NFC reader/writer accessory, players can design a room for that specific character on the card and scan additional character cards to invite those characters to visit. Animal Crossing: Happy Home Designer will launch this fall.
BOXBOY!: From the platforming masters at HAL Laboratory, Inc., creators of the Kirby series, comes BOXBOY! The black-and-white charmer tasks players with creating, casting and hooking blocks to navigate more than 150 challenging stages. BOXBOY! launches exclusively in the Nintendo eShop on Nintendo 3DS

tomorrow

,

April 2

.
A New Fire Emblem Game: For the first time in the series, the main playable character is not only a customizable avatar, but also the main hero or heroine of the game. Players must choose to take one of two major paths, resulting in two different experiences: the ?Hoshido? side for a more traditional experience, or the ?Nohr? side, which makes the story more complex and the difficulty level more challenging. The new Fire Emblem game will launch for the Nintendo 3DS family of systems in 2016.
Puzzle & Dragons Z + Puzzle & Dragons Super Mario Bros. Edition: Players get two gigantic, unique puzzle/RPG adventures when Puzzle & Dragons Z + Puzzle & Dragons Super Mario Bros. Edition launches on

May 22

. The two-in-one game can be pre-ordered starting today at http://puzzleanddragons.nintendo.com. For players who can?t wait until

May 22

to play, a free demo for Puzzle & Dragons Super Mario Bros. Edition will be available in the Nintendo eShop on Nintendo 3DS on

April 30

.
Pok?mon Rumble World: The latest action-packed adventure in the Pok?mon Rumble series is free to download (with paid content) and features more than 700 Pok?mon, all the way from the original Pok?mon Red and Pok?mon Blue games to the recent Pok?mon Omega Ruby and Pok?mon Alpha Sapphire games. Square off against tons of these Toy Pok?mon when Pok?mon Rumble World launches exclusively in the Nintendo eShop on Nintendo 3DS on

April 8

.
Code Name: S.T.E.A.M.: An upcoming software update to Code Name: S.T.E.A.M. will add a fast-forward feature to drastically speed up enemy turns. In addition, a new online Public Tournament in honor of playable character Tom Sawyer called ?Hijinks? launches today and runs until

April 5

.
New StreetPass Games: On

April 16

, two new StreetPass Mii Plaza games launch for $4.99 each, or $7.99 if purchased together. In Ultimate Angler, players visit the ?StreetPass Islands? to try to catch more than 150 types of fish and legendary monsters with bait received from Mii characters via StreetPass. In Battleground Z, players receive items based on the hobbies of their Mii Plaza StreetPass characters to defeat a horde of zombies. A new paid service will also launch alongside these new games called ?StreetPass Mii Plaza Premium,? adding features like ?StreetPass Birthdays? and a new Mii character VIP Room for $4.99.
Attack on Titan: Humanity in Chains: Based on the popular manga and anime, the Attack on Titan: Humanity in Chains game features four-player local and online co-op game play and leaderboards as players take on the role of their favorite character to defend humanity from the giant Titans. In addition, the first two episodes of the hit anime series are now available to stream for free in the Nintendo eShop on Nintendo 3DS. Attack on Titan: Humanity in Chains from ATLUS will launch exclusively in the Nintendo eShop for the Nintendo 3DS family of systems in May.
Xenoblade Chronicles 3D: A new trailer hones in on some of the mysteries of this epic role-playing game, the first game developed exclusively for the New Nintendo 3DS XL system. The game launches on

April 10

.

Super Smash Bros. for Wii U and Nintendo 3DS

New (DLC) Challengers Approaching!: As previously announced, Mewtwo will join the roster of Super Smash Bros.for Wii U and Nintendo 3DS as a downloadable character on

April 28

. For $4.99, players receive Mewtwo for both versions of the game. Club Nintendo members who have purchased and registered both versions of the game will receive a free download code for Mewtwo on

April 15

. In addition, fan-favorite character Lucas from Mother 3 is joining the all-star Super Smash Bros. cast in June. After a game update on

April 15

, Super Smash Bros. players can also purchase more costumes for their Mii fighters, including ones inspired by Mega Man X and Proto Man from Capcom?s Mega Man series.
Choose Your Own Super Smash Bros. Fighter: Starting today, Super Smash Bros. fans can visithttp://www.smashbros.com to participate in a ?Smash Bros. Fighter Ballot.? Fans can use this ballot to vote for which character they would like to see added to Super Smash Bros. for Nintendo 3DS and Wii U as a playable character.

Indies

Adventures of Pip from Tic Toc Games: When this pixel puzzle platformer launches this May in the Nintendo eShop on Wii U, players can use the GamePad exclusively to access inventory and quickly travel through the game?s world.
Mutant Mudds Super Challenge from Renegade Kid: People who purchase the Nintendo 3DS version of this beloved muddy platforming sequel will receive the Wii U version for free (and vice versa!). Anyone that owns the original Mutant Mudds game will also receive a loyalty discount when buying Mutant Mudds Super Challenge. The game launches exclusively in the Nintendo eShop on Wii U and Nintendo 3DS this June.
Don?t Starve: Giant Edition from Klei Entertainment: This acclaimed survival indie will launch this May with exclusive Wii U GamePad functionality and a special promotion ? anyone that purchases the Wii U game will receive a free download code for the game that he or she can give to a friend!
Octodad: Dadliest Catch from Young Horses, Inc.: Experience Octodad?s wobbly journey with family and friends in co-op mode, with two to four players controlling different tentacles. Octodad: Dadliest Catch flops his way into the Nintendo eShop on Wii U this summer.

For a glimpse at even more quality digital content scheduled to launch in the Nintendo eShop on both Wii U and Nintendo 3DS over the next six months, be sure to check out the Nindie Showcase video here.